2011 ERIC HOFFER AWARD WINNER
2011 WINNER OF THE MONTAIGNE MEDAL AS ONE OF THE MOST THOUGHT-PROvOKING BOOKS OF THE YEAR
2011 silver nautilus award winner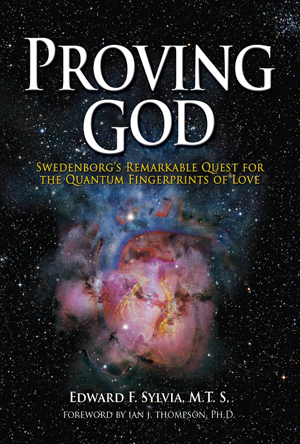 SWEDENBORG'S REMARKABLE QUEST FOR THE QUANTUM FINGERPRINTS OF LOVE
WITH A FOREWORD BY IAN J. THOMPSON, PH.D.
Forget what both scientists and the clergy have told you about the ultimate reality. This extraordinary book explains how scientists have misinterpreted the laws of the physical universe and how theologians have misinterpreted the revealed wisdom of the Lord God's Holy Word. Fasten your seatbelt and prepare yourself for the new laws of physics and the new theology that will fulfill God's promise of making "all things new."
Edward F. Sylvia's ground-breaking work unifYING science and tHEOLogy by challenging many of the world's current beliefs about both.
YOU WILL DISCOVER:
• LOVE is the fundamental law-giving and ultimate creative formative substance of the universe
• The laws of physics are derived from God's spiritual laws
• Scripture is a multidimensional and scientific document
• The evolution of intelligence and conscience on earth as well as the spiritual redemption of humankind is the extension of nature's loosened orderly process into the non-local and non-physical realm of heaven.
• The second coming is happening now!
• You are loved! You are personally important to God's grand scheme.
The first truly major work on Swedenborg's vast body of scientific and
theological ideas for the 21st century

"a complex and coherent view of spiritual reality"
"Sylvia follows the original route into metaphysics—straight through the heart of physics—and directly engages 'the elephant in the living room,' the utterly improbable symbiosis of complexity and coherence that is characteristic of both our universe and our minds. His argument that the universe and our minds are profoundly akin is carefully framed, and his conclusion that the coherence is an effect of love and the complexity an effect of wisdom is far removed from simplistic romanticism. In his able overview of Swedenborgian theology, he presents a complex and coherent view of spiritual reality that not only welcomes partnership with present-day physics but urges it to continue its pursuit of deeper understanding."
– Rev. George F. Dole, Ph.D., Professor Emeritus
Swedenborg School of Religion
Author – A Book about Us: The Bible and Stages of our Lives, and Freedom and Evil: A Pilgrim's Guide to Hell
"this is an important book"
"Proving God is an ambitious project that aims to bring the theistic science and mystical theology of Emanuel Swedenborg (1688-1772) into the 21st Century where it belongs. Edward Sylvia achieves this goal from necessity: In order to make sense of the astonishing implications of contemporary quantum physics, an intellectually defensible model for spiritual-natural causality is an essential next step. In Sylvia's judgment, this model has been waiting in the wings of science and religion for 250 years, for the science of ultimates to ask the proper questions. That time is now, and Proving God matches seminal problems of matter and energy with Swedenborg's powerful ideas on being and becoming, with astonishing results. What emerges from this scientific treatment of divine metaphysics is a comprehensible world view in which spirit and matter are now finally and undeniably one."
– Rev. Dr. Reuben P. Bell
President, Swedenborg Scientific Association
Director, Samara Center for Practical Spirituality
"a fresh new integration between the physics of the natural and the psychology of the spiritual"
"People interested in the rational resolution between science and religion will appreciate this lucid new account. Once you begin reading this fascinating book you'll want to come back to it again and again. It has a smooth topical flow that lifts the veil of ignorance concerning the most basic issues in life that people want to know. It is profound, with surprising and delightful insights on every page. This is a completely honest book. The content hangs together as a coherent and consistent whole. It succeeds in its claim to deliver a 'grand unified theory of everything' that 'can come only from revelation.' It presents in modern terms the unique revelation in Swedenborg's Writings. I intend to use Proving God as a text in my theistic psychology course."
– Dr. Leon James, Professor of Psychology
University of Hawaii
author of the web-published Theistic Psychology Series (2001)

"
With breathtaking scope across the disciplines of natural science, Ed Sylvia brilliantly engages the metaphysics of Swedenborg's theosophy in a penetrating interdisciplinary contribution to the ongoing conundrums of 'who are we?', 'why are we here?' and 'where is it all going?'. This is a tour de force offering an engrossing conversation on every page."

– Rev. Dr. James Lawrence
Dean of the Swedenborgian House of Studies at Pacific School of Religion of the Graduate Theological Union – Berkeley, California
Herbert Norton
Updating a once-famous engineer, scientist, philosopher, and theologian from the age of enlightenment, Sylvia revives a perspective of reality that uses the concept of a universal singularity to unify the duality controversy over mind versus matter. Proving God displays an amazing range of collected study relating Emanuel Swedenborg's theories and experiences in the 18th century to current sciences from archeology and anthropology to neurology and quantum mechanics. This awesome undertaking is an interdisciplinary study well worth the time and deep meditation required for grasping its profound concepts of universal reality."
– Oliver R. Odhner & Rachel D. Odhner
authors of Mentics, A Mind Modeling Method
Jim Alvarad